SOLO
Cello & Voice 
My solo project revolves around creating impressionist and experimental songs, aligned by the hypnotic cello. They are revealed in layers of light upon which a dreamy voice suspends. I incorporate various elements into my music, including folk, electronic and avant-garde influences, creating atmospheric soundscapes through the use of looping techniques and blending acoustic and electronic sounds. The compositions often feature intricate melodies, layered vocals and unconventional song structures. My music is often described as experimental and genre-defying. 
Here are some selected press considerations:
"How many possibilities are there for this instrument associated with classical music? As many as they are and can be explored by this Lisbon cellist edited by Revolve. Joana Guerra uses the instrument as a vehicle for experimentation. It is a sound experience that gains added value with visual performance. (…) She uses a kazoo, fused with the sound of strings, using voice lines in Portuguese, sometimes in French or English, and with a remarkable vocal amplitude, transporting us to a universe guarded by geniuses such as Diamanda Galás or even a Jarboe." André Vieira in Publico, 15.04.2018
"… Joana Guerra's approach to the cello ranges from greater experimentalism (sometimes rougher – visceral, chthonic –, sometimes centered on delicate debtor notes to contemporary written music) to an avowedly groovy facet (somewhere between rock, pop and folk), not forgetting the classic technique; additionally, she often uses loops and some additional electronics to superimpose multiple layers of sound (for example, introducing a certain repetitive motif in pizzicato, which she then recorded and left to sound, complementing it with the bow and her voice). The songs that followed, based on this type of resources, varied between introspection (mysterious, intimate) and expansiveness (when it did, Joana Guerra was able to truly fill the stage with the force of her presence). Ending with a kind of intense mantra, this excellent performance made very clear the potential of an artist we can't 'lose ear of'." João Esteves da Silva in Jazz.pt
JOANA GUERRA & GIL DIONÍSIO
Joana Guerra – Cello & Voice, Gil Dionísio – Violin & Voice
From experimental lyrism to an unarmed folk without any formalities.
Improvisation is free, uninhabited of creases and vices. As a kind of ritual, improvisation is also, if not primarily, the starting point. When two worlds, with both distinct and common grounds find each other, tales and confessions come alive and give to the simplest song a larger narrative. Classical poetics moving forward with no fear of its own history.
Debut album, Alarming Kids, was released in September 2019.
LANTANA
Anna Piosik – Trumpet, Carla Santana – Electronic, Helena Espvall – Cello, Joana Guerra – Cello, Maria do Mar – Violin, Maria Radich – Voice
Lantana is a sextet, formed in 2019, of experimental/improvised music that brings together some of the most creative female musicians in Portugal! The name Lantana refers to the known flowers that grow spontaneously in nature. Weeds and untamed flowers! The use of herbicides and the introduction of insects to control their spread does not affect them and the livestock that feeds on them gets sick. The music from Lantana "diverges from almost everything else we find in the Portuguese circuit of freely improvised music…everything in them diverges from norms, stereotypes and habits", according to the journalist and critic Rui Eduardo Paes (in Rimas e Batidas). 
Described as pendulum music (alluding to Steve Reich's "Pendulum Music"), Lantana explores organicity, timbric, harmonic and rhythmic possibilities, in a lively and resonant relationship between the six members of the group. This process of sonic concretization carries the responsibility of collective creation, like a picture painted by several hands. Lantana's sound is reminiscent of psychedelic, minimalism, chamber music, concrete music, folk, tonalism that often gives way to atonalism and noise.
Lantana recently released their first album, "Elemental" (2022), edited by Cipsela Records, and was featured in the best albums lists. The year of 2022 was capped with the reception of two awards: "Group of the Year 2022", by the festival "Festa do Jazz 2022, Lisbon; "Revelation Group of the Year", of the "15h ANNUAL INTERNATIONAL CRITICS POLL" from the publication El Intruso.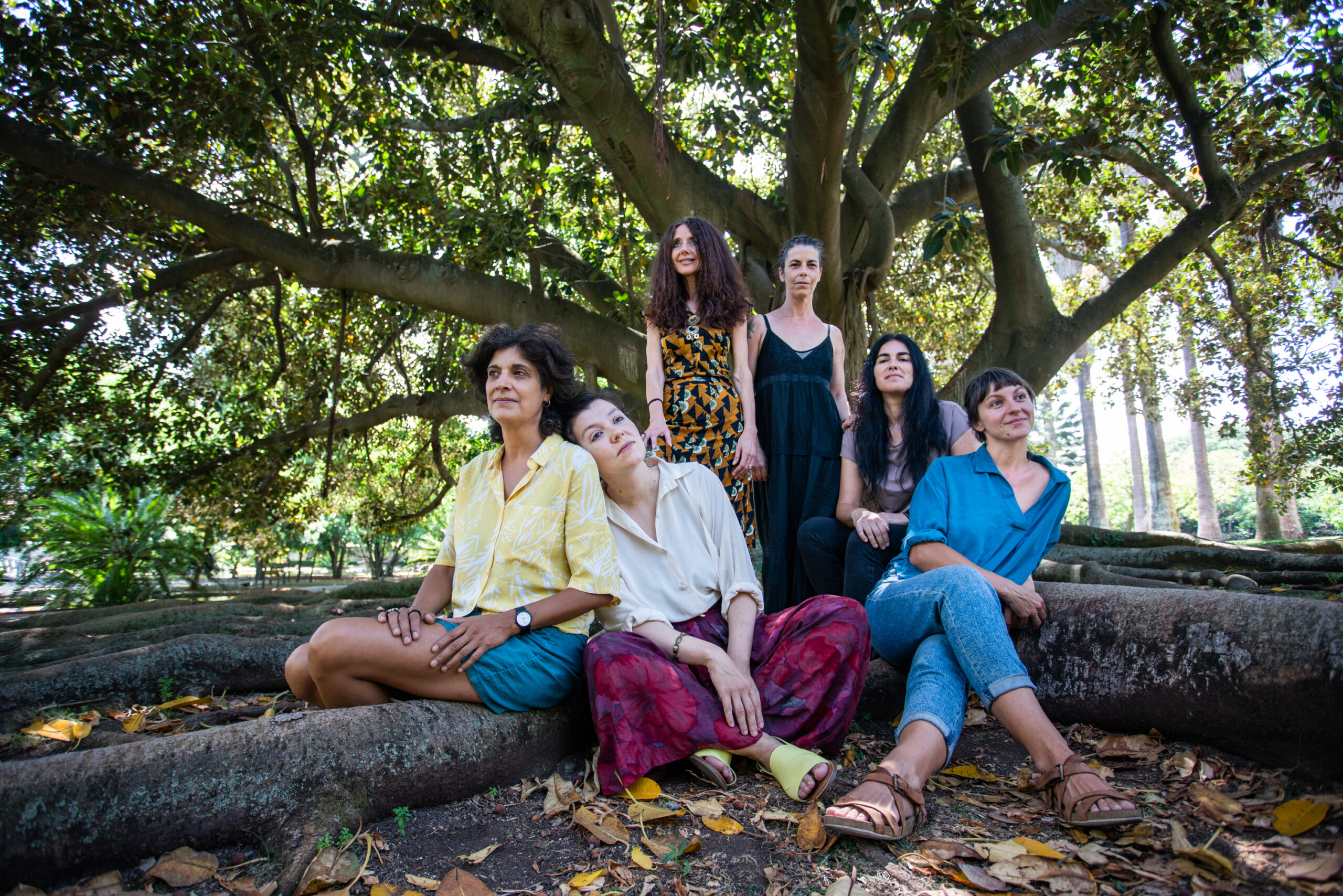 THE ALVARET ENSEMBLE
Greg Haines – piano, church organ, percussion, Jan Kleefstra – words, poems, Joana Guerra – cello, voice, Olga Wojciechowska – violin, piano, Romke Kleefstra – guitars, bass, effects, Sytze Pruiksma – percussion
 The Alvaret Ensemble is the improvisatory collective based around Greg Haines (piano), Jan Kleefstra (voice, poems), Romke Kleefstra (guitar, bass and effects) and Sytze Pruiksma (percussion).
"Ea" is the group's third album, after releasing the acclaimed self-titled double debut and the second album "Skeylja" in respectively 2012 and 2014 on Denovali Records. "Ea" was recorded over three nights in a small church in the Netherlands. As usual the group invited other musicians to join, as they did on the first two albums and also during their live concerts. On "Ea" the group is expanded with the Polish violist Olga Wojciechowska and Portuguese cellist Joana Guerra.
Just like on previous recordings The Alvaret Ensemble began to play without scores or discussion. The setting in the church, recording at night and the prominent role for the string section results in an album that comes closer the "Alvaret's" first album than to "Skeylja". Again there were hours of recordings, which took the group months again to compile and mix the album. Release dates were even postponed, as some first editions of the album were eventually rejected by the band itself, to start the whole process over again. At long last the group came to the double album "Ea" and gave it a new home on the new record label "laaps". In reviews the "Alvaret's" debut was stated to be tender, quiet and restrained; an introspective album, which stark beauty was perfect for winter, when color has been leeched from the landscape and all has been laid bare. "Ea" might fit that description perfectly. Even better, maybe.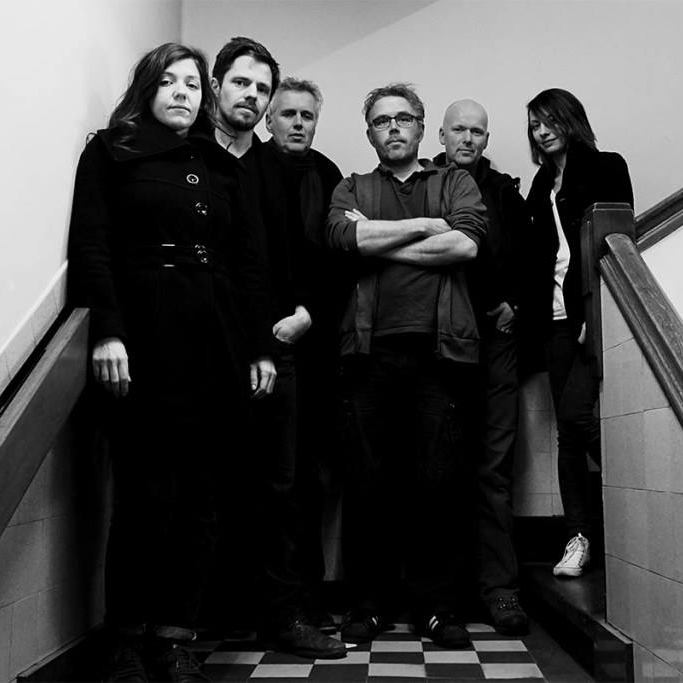 BANDE À PART
Joana Guerra – Cello, Carlos Godinho – Objects and Percussion, Ricardo Ribeiro – Soprano and Bass Clarinet
Bande à Part, from Lisbon, was born in 2013. After numerous live experiences, the first album, Caixa-Prego, was released in November 2014 through the label Creative Sources. With recognized critics in the jazz and improvised music scenes, this album was considered a "beautiful surprise". The result is an intimate and quiet music being at the same time intense and surprising. The group's interaction explores the territories of texture and ambience, thus creating free compositions with elegance.
"Mutual knowledge, complex and changing roles, clearly defined between the three musicians, making this one of the most solid and interesting projects of the current portuguese scene of improvised music." Bernardo Álvares in Jazz.pt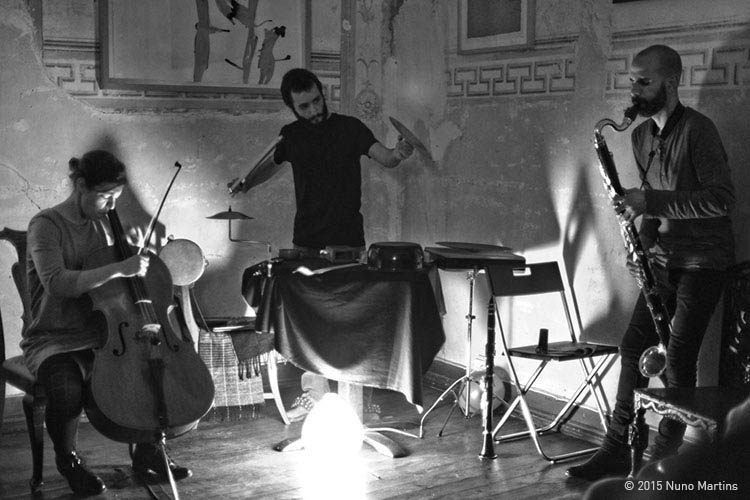 ASIMOV AND THE HIDDEN CIRCUS
Carlos Ferreira – Guitar & Voice, João Arsénio – Drums, Rodrigo Vaz – Bass, Joana Guerra – Cello, Peter Wood – Guitar
Asimov is an heavy psych band from Lisbon. For some special concerts, the core trio (Carlos Ferreira, João Arsénio and Rodrigo Vaz) is complemented by myself on cello and Peter Wood on guitar. As a quintet we have played in numerous venues, including Festival Reverence and Sabotage in Lisbon. We are now preparing a new album to be released early in 2020!
CORNELIUS CARDEW TREATISE
The Cornelius Cardew inspired ensemble "Tratado de Cardew": Bernardo Álvares – doublebass, Aude Barrio – electric doublebass, Joana Guerra – cello, Miguel Mira – cello, Nuno Morão – percussion, Carlos Godinho – percussion, João Silva – percussion, electronic, Paulo Raposo – electronic, monotron, "accordion", Meste André – electronic, Rui Miguel – electronic, synthetizer, Daniela Silvestre – electro-acoustic set, Yaw Tembe – trumpet, Nuno Torres – alto sax
Treatise by Cornelius Cardew, considered the "Mount Everest" of graphic scores, is an inspiring landmark in demand for new forms and sound languages. It consists of 193 pages combining a huge set of graphic elements that form a long visual composition.
Cardew doesn't give specifications or definite instructions on how to implement the Treatise. It's set up as an open landscape to any number of musicians and instruments (acoustic, analog or digital). Encouraging improvisation, it suggests that the interpreters themselves define a priori their own game rules.
This ensemble has performed at National Pantheon in Lisbon, Galeria Zé dos Bois, Salão Brazil, CRA, Casa dos Amigos do Minho, St. George's Church, Sociedade Guilherme Cossoul.
I have worked with other artistic fields, as composer and as a performer, in the following shows:
— 2020, Quando, a show from the choreographer Madalena Victorino + guests (movement, image and sound) presented in the Monchique mountain
— 2020/21, Amores na Clandestinidade, theater company Hotel Europa
— 2020, Agora que não podemos estar juntos, theater company Hotel Europa
— 2019, Eva Poro, music composition for a new creation for dance/music show with choreographer Madalena Victorino, in the landscape of Aljezur and Monchique
— 2018,  Parece que o mundo, directed by the choreographer Clara Andermatt and the composer João Lucas, show where sound and movement are  always linked resulting in an unique language. Teatro Municipal São Luiz, Lisboa
— 2017, Na Ausência do Meu Corpo, original music for a choreographic installation by Marina Nabais, debut at Mostra de Teatro de Almada
— 2017, Project Miragem! (Odemira's Town Hall): educational and artistical project for which we created a dance/music performance with a class from a preparatory school in Colos (small village in Alentejo). In co-creation with Ricardo Machado, professional contemporary dancer. Developed between March and May
— 2017/2016, original music with live performance for the theater company João Garcia Miguel: Nós Matámos o Cão Tinhoso; Romeu e Julieta
— 2016, Estação Terminal, Companhia Limitada III (relating to the creation of artistic projects based on the binomial Art and Social Intervention, dedicated to solitude in private or public space, deviation and madness), artistic direction by the renown choreographer Madalena Victorino and musician Pedro Salvador, at Lisbon's main theater venue, Teatro D. Maria II
— 2016, Performance Andro Gyny, with the choreographer, dancer and singer Filipe Moreira, presentations at Maus Hábitos and Seeralves Foundation, Porto. Tour in São Paulo, Brazil
— 2015/2014, Lis+Bú (itinerant show with dance, music and theater) Companhia Limitada II, artistic direction by  the renown choreographer Madalena Victorino and musician Pedro Salvador, presentations at Bairro Intendente, Festival Todos, São Teotónio and Almograve
Nós Matámos o Cão Tinhoso